If you are thinking of running a race to chase a personal best or to complete a new distance then training plans are essential. It is often thought that training plans are for 'proper' runners but actually they are useful for anyone at any running level. They are as important for injury prevention as they are for monitoring and improving progression.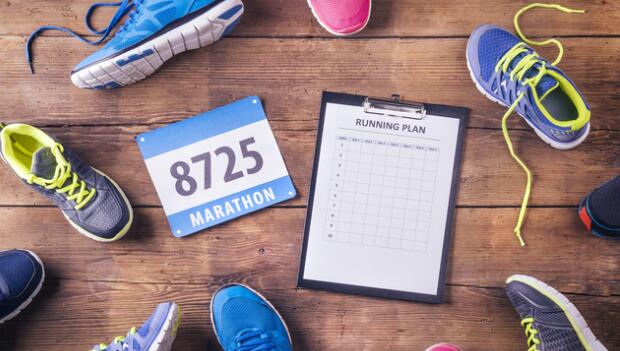 Training plans are readily available from places like www.runnersworld.co.uk , marathon websites and various online searches, as well as a number of books like Advanced Marathon Running and Faster Road Racing to name but a few. Rather than just picking a plan and going with it, you will need to consider whether you are up to the frequency/intensity of the plan that you've chosen. If, for instance, you've chosen a Spring marathon or half marathon, it is best to look now at a plan so that you have time to make sure that you are up to the base distance and fitness that it requires before the plan starts. If, for instance, you haven't been used to doing tempo runs and the plan suggests in the first week that you need to do 3 miles worth, it is best to try a tempo run each week pre start of the plan, of a lower mileage, so that your body can adapt. Otherwise you are hitting your body with an increase in frequency and intensity, as well as new styles of running, and asking it to adapt to these changes all at once
I feel that the priority of any plan is to get you to the start line uninjured As plans that you take from the internet or a book aren't personalised, an overenthusiastic leap into one may well break you before you have got very far, and I speak from experience. Take a plan that you think best suits your level and sit down with it and your diary and work out whether, with your lifestyle, it is doable. If the plan asks for 5 runs a week and you struggle to fit in 3 a week then you'll need to adapt the plan and not just randomly skip runs. If doing a marathon, and you have a couple of years experience, 4 to 5 runs is probably optimal, 3 at an absolute minimum. I managed my first marathon on 3 quality runs plus a high intensity spinning session a week because that is all I could fit in with two very young children and a job. I achieved the Plan A of not breaking and Plan B of sub 4, but it wasn't easy. A caveat to that is that I have run (albeit not very well!) for many years and so had miles in legs, whereas someone newer to running may not get away with that low mileage for marathon training.
So what to include if you need to reduce the suggested runs in a generic training plan? Look for the key sessions; these are likely to be:
A speed/ efforts session
A tempo run
A long run
These are the sessions you don't want to miss. You'll find the other runs during the week will be endurance & recovery runs which, although important, are less essential than the 3 key sessions above. By leaving out these 'extra' runs you will miss out on building that additional endurance and general conditioning important for longer distances. If you can't or don't want to fit them in, then perhaps consider replacing them for cycling or swimming to improve your endurance, or build up your strength by adding a short but regular strength and conditioning programme.
Talking of strength and conditioning, any distance over 10k generally requires one to do more that just running, unfortunately. Running doesn't strengthen you particularly; in fact it can have the opposite effect, highlighting biomechanical weaknesses and imbalances. So, if you do nothing else, at least fire up and strengthen the glutes, your key running companions. But preferably you could add into the plan a Yoga or Pilates session a week and 2 or 3 mini strength and conditioning sessions, even if it's only 20 minutes at a time in front of the TV in the evening.
For more information about staying fit and injury free for your big races, or further advice on run training plans, please get in touch.